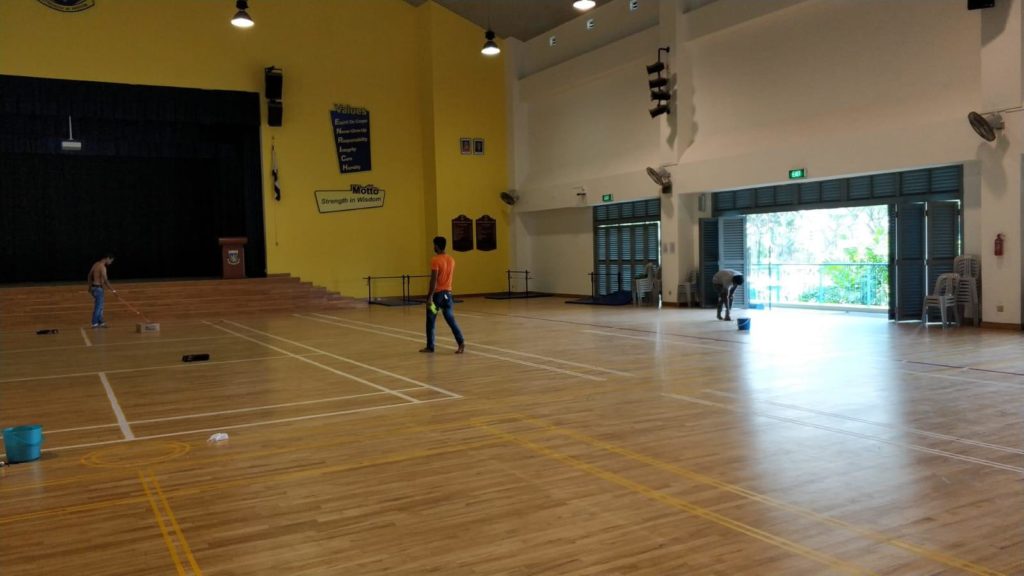 Seamless indoor sports court flooring is an incredible investment with endless benefits. Apart from just creating a safe and consistent platform for regular workouts and play, quality indoor sports court flooring could also significantly elevate the feel of your interior decor. Whether the flooring is made of rubber, hardwood or tiles, regular maintenance is always critical to preserve them in proper condition over time.
Court Marking Singapore is the go to indoor sports court flooring maintenance specialist that you should always engage. We specialize in professional, reliable and affordable indoor sports court flooring maintenance service tailored to the unique expectations of every client. Our primary goal is to deliver the most suitable maintenance procedures that will enhance the functionality and overall appeal of your indoor sports court flooring.
Benefits of Indoor Sports Flooring Maintenance
Without understanding the benefits of indoor sports court flooring maintenance, it will just be an additional expenditure to avoid. Below are the main reasons why it is always recommended to perform the regular maintenance of your indoor sports court flooring:
Removes germs, dust, grit and contaminants: Due to the enclosed spaces where indoor sports courts are located, it is easy to accumulate germs, dirt and dust particles that could impact health issues and accidents to the people using the facility. Some contaminants could also wear out the flooring quickly.
Corrects the surfaces: Rubber, timber and tiles provide even surfaces but, frequent use could cause inconsistencies over time. Such conditions may increase chances of accidents and degrade the flooring much faster if they are not fixed on time.
Eliminates bad smells: Indoor sports courts are usually quite stuffed. Coupled with the sweat generated during exercise, the facilities can be very smelly without regular maintenance.
Revives the beauty of the flooring: Proper maintenance will effectively transform the appeal of the floors, making them look as if they are just installed.
While indoor sports courts are situated in enclosed spaces, they are still exposed to various kinds of risks that can only be detected and fixed on time through regular maintenance. By letting our experts handle the maintenance of your indoor sports court flooring, you will also be able to avoid expensive recurring repairs.
The Best Indoor Sports Court Flooring Maintenance in Singapore
At Court Marking Singapore, we emphasize comprehensive indoor sports court flooring maintenance that covers various types of sports floors and facilities. We understand the expectations of different clients when it comes to indoor sports court flooring maintenance and, always guarantee the ultimate solutions that will properly preserve the floors of all your indoor workout spaces. The following are reasons why our company is rated the best in indoor sports flooring maintenance Singapore.
Custom indoor sports flooring maintenance
There are different kinds of indoor sports court flooring materials including, rubber, timber and tiles. Each of these requires unique maintenance procedures and, that is why our services are also tailored to the specific indoor sports court flooring that a client has. This will ensure that your indoor sports court floors are accorded the most suitable treatments to keep them in top notch condition throughout.
All-inclusive indoor sports court flooring maintenance
Due to our expertise, many years' experience in the industry and use of innovative sports court flooring maintenance technologies; we service all kinds of indoor sports courts. Our company specializes in the maintenance of floors for all indoor sports facilities including basketball courts, squash court, netball court, badminton court, tchoukball court, futsal court and volleyball courts.
Reliable indoor sports court flooring maintenance service
Whenever you hire us to maintain the floors of your indoor sports court, there is always a guarantee that your project will proceed according to plan. After a proper inspection of the court, we will discuss with you about the recommended maintenance procedures based on its condition and your demands. We offer quality indoor sports court flooring maintenance for homes, businesses, offices, schools, sports teams and organizations in Singapore.
Our service is also offered on very flexible terms, so you can always choose when and how your indoor sports court flooring should be maintained. However, our experts will also advise you on the most suitable frequency and maintenance procedures for your floors.
Talk to us today for professional, affordable and convenient indoor sports court flooring maintenance Singapore.
HDB Registered Contractor
License Number: HB-09-5474D