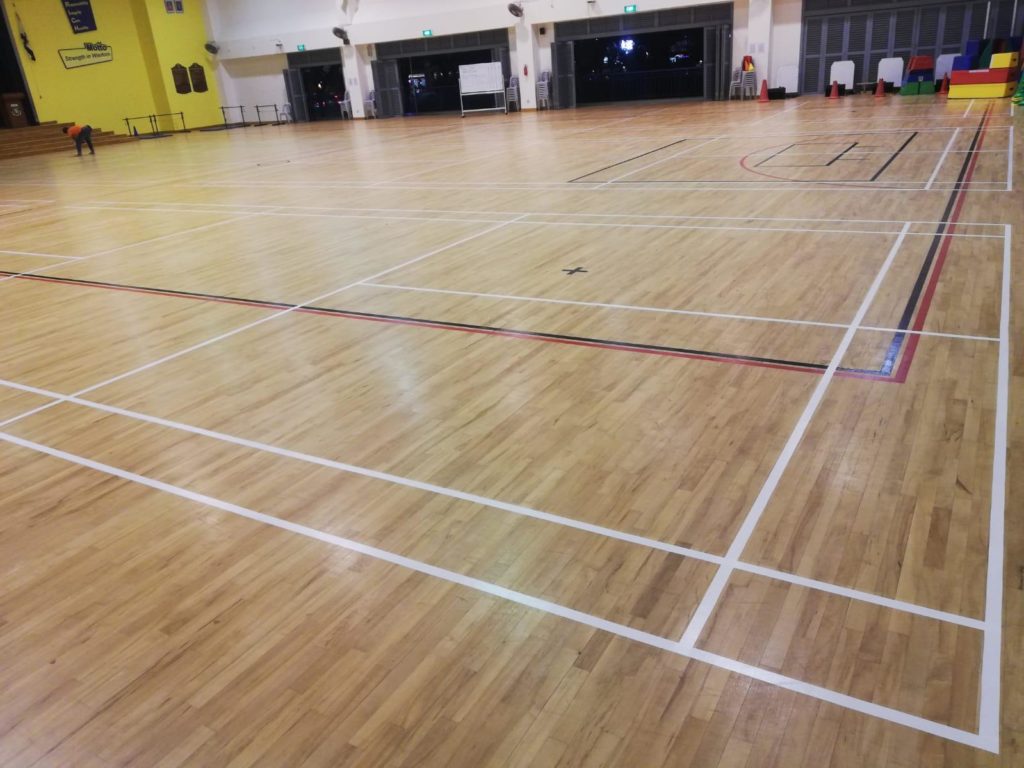 Indoor sports courts are becoming a key component of many residential and commercial establishments today. Unlike in the past when such facilities were only reserved for the wealthy living in huge secluded mansions in the suburbs, most apartments today have indoor sports areas for residents to exercise at their convenience. While many only focus on the training space and equipment, the flooring of your indoor sports court requires much thought to ensure that the facility is safe and serves you better.
At Court Marking Singapore, we are the experts in indoor sports court flooring that can install the right floors for your training space. We install indoor sports court floors for small homes, large residential units, schools, sports organizations and businesses with indoor recreational facilities like gyms in Singapore. In every project, we always guarantee utmost reliability, affordability and professionalism. Besides, our specialists will also be available to respond to any concerns throughout the duration of your project.
Gym Flooring
The floor of your gym is an important element of the entire facility's functionality that should always be given priority when developing the space. Having handled many gym flooring projects in the past, we understand the requirements for an ideal gym floor. Our specialists will discuss with you the most suitable flooring options for your gym based on the activities to be conducted therein, your budget and training needs. Nevertheless, we always emphasize on quality gym flooring that is long lasting, withstands impact, easy to clean and safe. We also have the expertise and efficient tools to ensure that the flooring is properly installed. Simply talk to us for the best gym flooring Singapore.
Synthetic Playground Tiles and Flooring
Creating the right indoor playground at home can be challenging, especially if you do not know the key requirements. While other parts of the space are equally important, precedence should be given to the flooring since it is where most activities will take place. Synthetic playground tiles and flooring are the best for creating safe and comfortable indoor play areas. One of the benefits of synthetic tiles is that they are quite versatile and can easily fit into just any indoor space. Besides, they are also enhanced with unique and intricate designs that improve the ambiences of the spaces where they are installed. Our synthetic playground tiles also have better resistance to impact and safe for children.
Indoor Sports Court Timber Flooring
There are many benefits of timber that makes it one of the best materials for sports court flooring. In fact, timber has been used to make floors for many centuries. The main reason for this is because of its longevity, outstanding resistance to impacts, sound absorption and elegant timeless appeal. Our indoor timber sports court timber flooring will not only make your training space more comfortable and resilient but, also improve the appeal of the entire interior space. Most people also love our sports court timber flooring because it is very easy to clean and maintain. Whether you are creating a new indoor training space or revamping the one that you have, we can install the best quality timber floor that truly matches your needs and decor. Our specialists can also customize the timber flooring for regular and irregular spaces as well as unique sports activities.
Get a Free Quote for the Best Indoor Sports Court Flooring Singapore
Whether you need gym flooring, synthetic playground tiles or indoor sports court timber flooring, the first step is to obtain a quotation. Upon receiving your request for indoor sports court flooring, a team of experts will be dispatched to your property to conduct a preliminary inspection and, also take your specifications. We always begin with a site assessment to enable us determine practical indoor sports court flooring solutions to your specific needs, space requirements and budget.
Our indoor sports court flooring specialists are available round-the-clock to provide the necessary support and advise in choosing the most suitable options for your facility. However, our services do not just end with the installation of the floors; we also provide additional services including professional indoor sports court flooring maintenance, indoor sports court marking and painting as well as floor repairs Singapore. Contact us now for the best indoor sports court flooring Singapore.
HDB Registered Contractor
License Number: HB-09-5474D