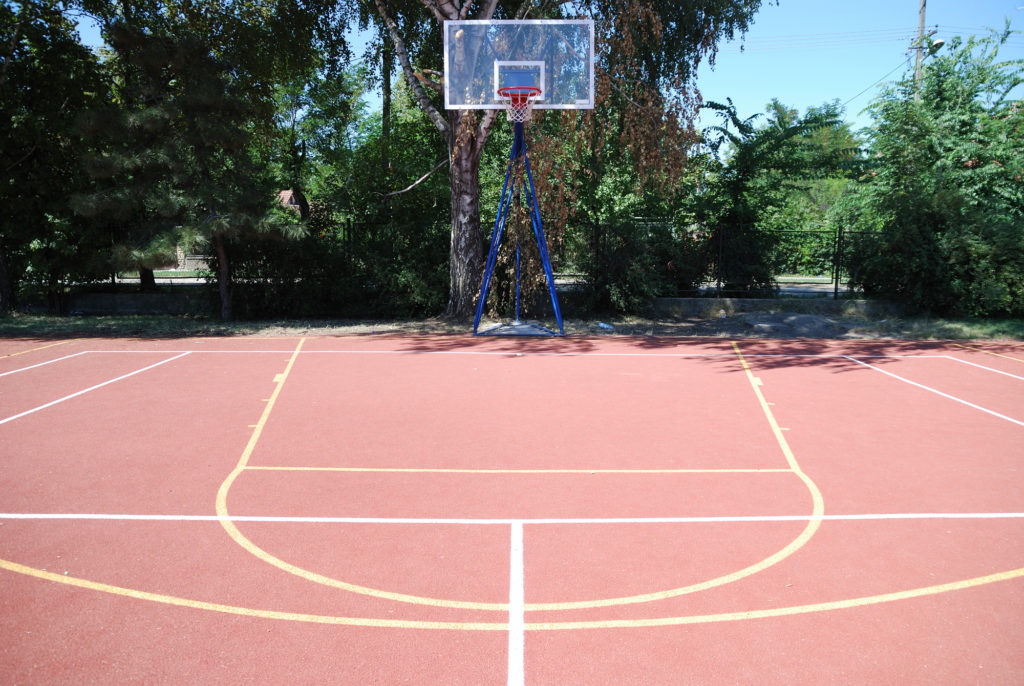 Most professional athletes love to train outdoors because of the natural environment that it offers. However, outdoors are also exposed to a series of risks that can potentially hinder the performance of athletes. If you are considering training or exercising outdoors, it is important to think of how to make the surfaces ideal for your activities.
Outdoor sports flooring is the most efficient and cost effective alternative to creating a functional, serene and safe recreational ground.
At Court Marking Singapore, we are the specialists in outdoor sports flooring that you can trust to transform your training grounds. We provide reliable outdoor sports flooring services to home owners, businesses, schools and sports organizations in Singapore. In every project, we always guarantee tailor made solutions that truly meet the needs of all clients.
Our Outdoor Sports Flooring Options
Synthetic Grass Flooring
Synthetic grass looks like natural grass and, can go a long way in giving your outdoor sports court a new look. Artificial grass flooring is soft and durable with outstanding shock absorption properties. Since it does not require weeding, watering or use of fertilizers, installing synthetic grass in your outdoor sports court is also very cost-effective in terms of the initial costs and operational costs.  On the other hand, they do not attract insects and pests, which ensure low maintenance and safety for the athletes. Synthetic artificial grass is also quite versatile since we can install them on just any surface. In fact, artificial grass can even be installed on rooftops to create safe and comfortable sports grounds. Simply talk to us for the best synthetic grass flooring Singapore. Our experts will help you choose the best synthetic artificial grass and, also install it at your own convenience.
Jogging and Running Track Flooring
Jogging and running can be very risky if the surfaces are not levelled. But, keeping the surfaces levelled can be a hard task outdoors due to the ever changing environmental and weather conditions. The permanent solution to such challenges is jogging and running track flooring. At Court Marking Singapore, we are the specialists in jogging and running track flooring that you can rely on to give your outdoor sports court the ultimate makeover. Regardless of the condition or size of the outdoor space that you have, we can easily create a customized jogging and running track flooring. After a proper inspection of the site and discussion about your expectations, we will provide a detailed and accurate quotation for your approval. Besides installing the track flooring, we also perform outdoor sports court marking and maintenance.
Outdoor Deck Flooring
The outdoor deck in your home or business establishment provides additional space for you and your guests to relax and exercise. Besides, an outdoor deck can also enhance the aesthetics of your property. However, the functionality and aesthetics of your outdoor deck depends on how the floors and other structural components are constructed. In case you are planning to use the outdoor deck for sports activities or workouts, it is critical to install the right outdoor deck flooring for sports courts. Unlike other flooring materials, outdoor sports court flooring is resilient, uniform and safe, hence, creating ideal surfaces for athletes and even workout enthusiasts to enhance their performance. Our outdoor deck flooring is also made with unique designs that will truly elevate the appeal of your space.
Why Choose Our Outdoor Sports Flooring Services
Court Marking Singapore is the expert in outdoor sports flooring Singapore trusted by many home owners, businesses, schools and sports organizations. Our company is founded on the principles of reliability, affordability and professionalism, which we uphold in every project. We take pride in our ability to meet the unique demands of all the clients that we serve.
Here's why you should always choose our company for outdoor sports flooring Singapore.
High quality outdoor sports flooring options
Custom outdoor sports flooring solutions
Reliable and professional flooring installation
Affordable outdoor sports flooring services
Apart from the installation of outdoor sports flooring, we also specialize in outdoor sports flooring maintenance, floor repairs, outdoor sports field marking and painting. This ensures that you can always find all the services that you need to develop and maintain a fully functional and stunning outdoor sports facility.
Contact us now for the ultimate outdoor sports flooring solutions.
HDB Registered Contractor
License Number: HB-09-5474D